Pumpkin and maple pecan salad with fig and feta

Pumpkin and maple pecan salad with fig and feta
Recipe courtesy of JC's: https://www.jcsqualityfoods.com.au/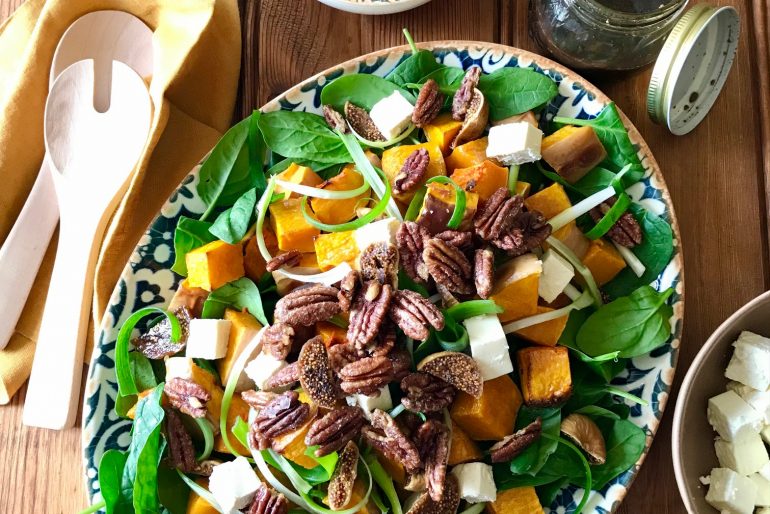 Ingredients
Salad
1-1.2kg butternut pumpkin, cut into 2cm chunks, skin left on
Olive oil spray
1 cup natural pecans
2 tbsp maple syrup
100g baby spinach leaves
4 spring onions, cut into 5cm lengths, then thinly sliced
8 dried figs, sliced in half horizontally to expose the seeds, then halved again
200g Danish feta cheese, cut into 1 cm pieces
Dressing
1/3 cup balsamic vinegar
1/3 cup olive oil
1 tbsp maple syrup
2 tsp wholegrain mustard
---
Method
Place the pumpkin onto a lined tray, spray with oil, and bake at 190°C for 40 minutes or until cooked through and lightly browned.
Combine the pecans and maple syrup in a bowl and mix until well coated.
Place onto a lined tray and bake at 190°C for 10 minutes, or until crisp. Allow to cool.
Assemble the spinach leaves onto a serving platter, top with the pumpkin, spring onions, figs and feta.
Combine in a jar the oil, vinegar, extra syrup and mustard. Shake until combined.
To serve, pour the dressing over the salad and scatter over the pecans.
---
Credit
Recipe courtesy of JC's.
---
Nutrients per serve
Energy
3,550kJ
Protein
21g
Fat
56g
Saturated fat
12g
Carbohydrate
59g
Sugars
51g
Dietary fibre
15g
Sodium
638mg