Hazelnut date balls

Hazelnut date balls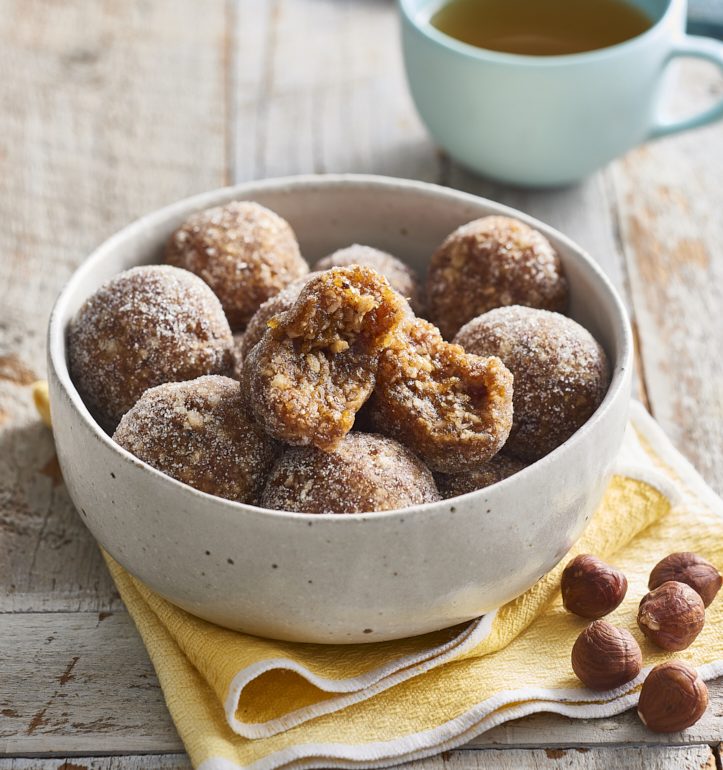 Ingredients
160g hazelnuts
2 tbs honey
1 tsp grated orange zest
1 tsp ground cinnamon
¼ tsp ground allspice
¼ tsp grated nutmeg
½ cup finely chopped dried apricots
½ cup finely chopped seeded dates
2 tsp hazelnut oil or a neutral flavoured oil
½ cup pure icing sugar (optional)
---
Method
Preheat oven to 180°C.
Place hazelnuts on a baking tray and toast for 10- 15 min (do not burn) then let them cool.
Chop hazelnuts in a food processor until fine but not to dust.
Add all other ingredients except oil and sugar. Quickly pulse a few times to mix, or do this in a mixing bowl.
Turn mixture into bowl and rub your hands with a little oil. Pinch off walnut sized pieces and roll into balls.
When all balls are rolled, sift over the icing sugar (optional) and roll balls in it to coat well.
---
Nutrients per serve
Energy
420 kJ
Protein
1.4 g
Fat
5 g
Saturated fat
0.3 g
Carbohydrate
11 g
Sugars
11 g
Dietary fibre
2 g
Sodium
3 mg